Newest, beautiful, single women now added for week of Wednesday, 31 May, 2023 - Tuesday, 6 June, 2023
Your opportunities here are truly worldwide. Explore our site deeply to see how you can realize that!
About Ukraine Dating Agency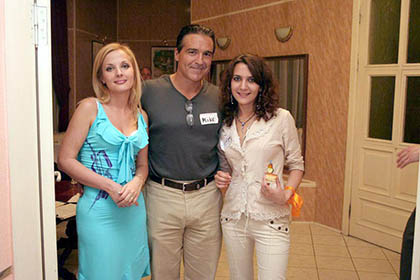 For more than two decades of research, hard work, and the cooperation of talented people, Ukraine Dating Agency has helped a lot of foreign men in finding the right Ukraine women for them. We were among the very first to introduce romance tours and online dating. We are also among the most successful agencies worldwide when it comes to matchmaking services. In fact, most of our clients have testified that they have found the right one for them in our tours.
They are now married and are building their families. Even our founding partners and other staff members have met and married their gorgeous brides through the help of our matchmaking services.
Our focus is to provide excellent matchmaking services that will pave the way for foreign men to meet Ukraine ladies for marriage. Once you sign up and create and account with us, you will have the chance to enjoy unlimited access to Ukraine women's profiles and will be provided options on how to communicate with them. With the help of our professional matchmakers, you can make a phone call to these Ukraine women or send them a letter. You do not need to worry about the language barrier because a translator will always be available if you need your calls or messages translated.
If you want to meet single Ukraine ladies in person, we also have a way for you to experience that: join our romance tours. This major event, the most anticipated among our matchmaking services, is held in different locations in Ukraine annually. During these nights, you will be able to socialize with the women registered in Ukraine Dating Agency. Although some Ukrianian women can speak English, translators will still be available at the venue if you need assistance. You can have a conversation with them over a glass of champagne and not worry about a thing. Everything will be planned and prepared by our local staff.
In the United States, you can find our main headquarters. Although we have offices all over the world, with over 100 employees worldwide. Over the years, hundreds of affiliate marriage agencies have been developed in 20 different countries. If you need assistance with anything or for inquiries, do not hesitate to contact us. You can visit our corporate offices during business hours or just call us. Our lines and doors will always be open.
The worldwide media attention, which is more than any other company in the singles industry, is proof that our services are no stranger to the media. We have been featured on 60 Minutes, Inside Edition, The Today Show, Nightline, Dr. Phil, We TV, National Geographic's Bachelors Abroad, Maury, The X Show, as well as news shows on all the major networks including ABC, CBS, NBC, FOX, A&E, and the BBC, to name a few. Some of our stories have also been featured in TIME, The Washington Post, The New York Times, Maxim, Penthouse, Marie Claire, Saturday Night, St. Petersburg Times, Philadelphia Inquirer, Arizona Republic, and Sacramento Bee among many others. We have also been featured on numerous radio programs, such as Loveline and a segment on USA Radio Network. We have also been the subject of numerous documentaries, such as Love Me on Netflix, as well as the film Two Brothers and a Bride.
These recognition and awards, which you can also view on our website, are strong proof that we are getting the job done for you. Being one of the first online dating sites, we aim to continue and strengthen our values in finding men and women the perfect match.
We highly value integrity and trust, aiming to maintain our reputation as one of the honest Ukraine marriage agencies, and this reflects in everything we do. We make sure everything is verified, especially the identity of the women on our site. The local staff of Ukraine Dating Agency screens every profile before posting it on our site to establish authenticity. The clients will also be protected upon signing up. Confidentiality is of utmost importance. Hence we reassure you that your personal information and activities are in safe hands. Throughout your journey in finding a Ukrainian woman for marriage, our real, live professional matchmakers (not artificial intelligence) will make sure everything will be smooth-sailing and efficient for you.
If you ever encounter a problem with our system, employees, or any of the women you meet or correspond with, PLEASE CALL US! You can find our phone number and contact information at the bottom of nearly every page of our website, and you can reach us during normal business hours (US time). We are completely committed to service. It is our number one priority and we will do everything in any way we can to ensure that you are satisfied or even exceed your expectations!
If you have been dreaming of meeting foreign women or marrying a Ukrainian woman, then this is your chance. Making your dreams come true is just within your fingertips. Visit Ukraine Dating Agency and sign up now!
Newest, beautiful, single women now added for week of Wednesday, 31 May, 2023 - Tuesday, 6 June, 2023
You have to meet the women to marry them! What other international dating site offers you numerous opportunities to do that?